Located in a quiet suburb of Silicon Valley, OML is just 30 minutes south from San Jose International Airport.  At our location we have all the latest technology to support your exploration of the millimeter wave frontier.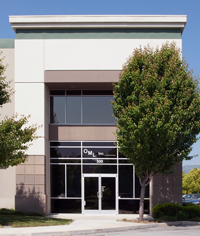 Manufactured in the USA!...
We have all the necessary equipment for design, manufacturing, and customer service of all the millimeter wave products we ship. To better support our customers and operations, we have all the best test & measurement equipment including popular VNAs: Anritsu Lightning (37147A & 37247D), Agilent (HP) 8510C‐85105A, Agilent PNA (E8362B‐N5260A), and Agilent PNA‐X (N5242A‐N5262A).  For power measurements up to 110 GHz, we use Agilent power meters; above 110 GHz, we use a calorimeter for our power measurements. We also have a class 1000 clean room!
OML has a full gamut of impressive capabilities to design, produce, and support the millimeter (and sub‐millimeter) wave applications of our customers.