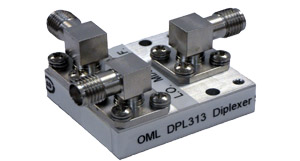 The external mixer setup using OML's harmonic mixer (model MxxHWD) may require the use of an external diplexer (if not already integrated within the spectrum analyzer). 
For example, the Keysight PSA (model E488xA, option AYZ) requires an external diplexer; whereas, the diplexer is already integrated within the Keysight PXA (model N9030A, option EXM).  In both cases, the diplexer enables signal flow between the harmonic mixer and spectrum analyzer with adequate signal separation to optimize performance for mm-wave spectrum analysis.
Another popular application of our DPL.313B diplexer is for coupling Keysight's 11970 harmonic mixer series to the new Keysight PXA (model N9030A).
DPL26: HP 2-6 GHz, I.F. DC to 1 GHz
DPL313B: HP 3-13 GHz, I.F. DC to 1 GHz
DPL518: HP 5-18 GHz, I.F. DC to 2 GHz