OML offers the following power accessories for use with our VNA and Source modules.
For a turn-key solution, the AC Adapter will conveniently satisfy your DC power prerequisites; however, compliance outside the US depends on local regulations. In this popular scenario, you can forego the use of a lab power supply and instead use this AC Adapter for power.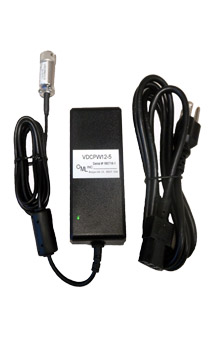 AC Adapter, 9VDC, 4.5A
AC Adapter, 12VDC, 5A (VDCPW12-4 has been replaced with VDCPW12-5)
For local power supply compliance, the DC Adapter represents an attractive solution. Simply purchase a local power supply that satisfies compliance regulations and this DC Adapter will enable connection to OML modules.
The standard interface to a lab power supply is satisfied with a DC Cable.