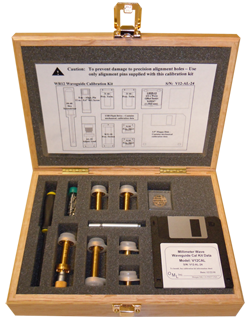 For vector error correction procedures with your existing vector network analyzers, OML also offers precision millimeter waveguide calibration kits with coverage from 50 GHz to 0.5 THz in four configurations:  Universal, Standard, and Standard plus Sliding Load (except WR-02.2) and Standard plus additional Load and Short. 

Universal
The VxxCAL is the premium calibration kit that supports the most calibration techniques.
Standard
In contrast, the VxxCAL1, our most economical solution, contains 1 load, 1 short, 1 1/4 wavelength shim, and 1 waveguide section.  The Standard calibration kit satisfies TRL, SOLT, SSoLo, and SSoL for one and two port calibrations.
Standard plus Sliding Load
If you prefer a sliding loading calibration (e.g., SSoLs), we also offer the VxxCAL2 that adds a manually adjustable load to the Standard configuration.
Standard plus 1 additional Load & 1 additional Short
If you prefer an additional load and short as backup components, we offer the VxxCAL3 that adds an additional precision load and short to the Standard configuration.